Our Nordic trips were a phenomenal success last year, all filling to capacity. Those going on these trips typically buy their food and cook together, as well as carpool to get to the destination.
| | |
| --- | --- |
| | December 16-18, 2005 - The leadoff trip is to the spectacular Snow Mountain Ranch, situated between Fraser and Granby in Northern Colorado. Luxury that we seldom experience on our nordic adventures (read indoor plumbing!) |
| | December 31 - January 2 - A return to our perennial favorite near Steamboat - Strawberry Hot Springs. |
| | January 27-29 - A return to the cabins of the Buford Foundation, just a few miles this side of Centennial. Enjoy a couple of days on the east side of the Snowy Range. |
| | February 5-9 - Winter in Yellowstone. You'll be back in Jackson right when the bus arrives for the Alpine trip. The Frosty Fun Package includes four nights lodging, snowcoach transportation in to Old Faithful and out, and additional goodies. |
| | February 17-20 - our annual trip to Michigan Lakes, just west of Cameron Pass in the Colorado State Forest. A wide variety of terrain is available here, so come along, whatever your skill level. |
| | March 17-19 - Snowy Range, but the WEST side. We've reserved the Brush Creek Work Center. Enjoy trails around Ryan Park or up on top, head over to Bottle Creek's trails near Encampment, or just spend the day in the Hobo Pool in Saratoga. |
For details on these excursions, get in touch with Art Anderson (638-1286)
Day-skiing in this neck of the woods?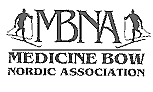 Check out the Medicine Bow Nordic Association. Lots of links and tips to make it more enjoyable for a day or just for a couple of hours. They've also provided a very nice map of the Pole Mountain trails that you can print and plasticize. Don't leave home without it. Download it here.
For other areas, you can build your own map at Topozone.
Cross-Country elsewhere?
Click on over to A1 Trails for nationwide info on hiking, biking, cross-country trails.
Yellowstone in the Winter
Art Anderson is making arrangements for club members to join a group going into Yellowstone February 5 through 9. Call Art at 638-1286 for details on car-pooling to Jackson. The package typically includes snowcoach transportation in and out of the park, 4 nights' lodging in Snow Lodge, 4 breakfasts, and 10% discount on most merchandise.

Art has some money-saving tips as well, since he's done this trip several times before.

If you can't make it with the group, try to get up there on your own schedule. Go to Xanterra and see what they have available.

If you're not convinced yet, read what Frommer says.