POUDRE RIVER WHITEWATER RAFT TRIP
Blast of Whitewater
Provided by A Wanderlust Adventure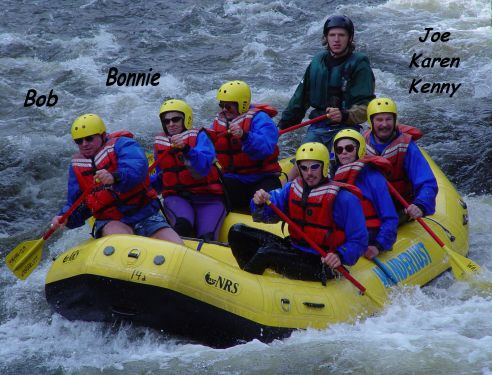 Date: Saturday, June 10, 2006
Time: 9:15 a.m. Leave from lower level of Vern's Restaurant in LaPorte, Colorado. Map and details will be available soon.
Time on river: 2.5-3 hours
Total time: 4 hours
Difficulty: Class III and IV
Fee: $55.00 per person; Wetsuit package deal includes wetsuit,
shoes, fleece pullovers and waterproof jackets, all for $10.00;
Total cost: $65.00*
Wear quick drying shorts and shirts (avoid cotton), secure footwear (not flip flops) and sunglasses. Bring a towel, sunscreen and a change of clothes. Bring a swimsuit or pair of nylon shorts to wear under the wetsuit. Straps for prescription glasses or expensive sunglasses recommended.
*The wetsuit on the Blast trip is mandatory in June because of the cold water and the fact that people don't realize how cold the water is until it's too late.
Everyone should be mentally and physically prepared for a high water, exciting raft trip.
Contact Dan Moede at 634-1042 (evenings) or at dmoede@bresnan.net if interested in going. Checks should be mailed to Dan Moede, 3611 Concord Rd., 82001. Deadline for registration is May 20, 2006.